Sawyer Place, 45 Main Street, Ground Level
Art Collector's Expo is an entirely new sector exclusively dedicated to promoting affordable art, honoring artisans and emerging artists, encouraging collectors at all price points, and creating an inclusive and accessible market for both. Local and Yonkers-based artists will be selling their multi-media works—ranging from photographs, watercolor, paintings, collage, embroidered objects, wearable art, and more!
Art Collector's Expo participants:Athena Rigas, Phillip Johnson, Jennifer Gray, Matthew Adorno, Maddy Sarnicola, Annabelle Weatherly, Tatyana Matvyeyev, Ruth Merwin, Luisa Baptista, Nicholas Anselmo, and Shanequa Benitez.
Yonkers Riverfront Library, One Larkin Center, Atrium
YES YONKERS! Community Quilt Project
Artists Evan Bishop and Katori Walker devised the idea for this art project when they considered the history of quilt making and its collaborative process. Awarded a 2018 Yonkers Arts Initiative Individual Artist grant by ArtsWestchester, these panels will be stitched together to create the largest piece of art in Yonkers history.
This all-inclusive community art project was designed to celebrate Yonkers, family, life, and unity. Each participant was encouraged to create art, write a message, or share positive words on a 10-inch square canvas swatch. No art-making experience was required. Join us at the unveiling and fashion show May 18th.
Warburton Galerie, 16 Warburton Ave
Yonkers' newest gallery.
"Spring Exhibition"
Featured Artists:
Sergio Barrale, Shanequa Benitez, Beto, Louie Blacka, Shane Bullock, Monica Carrier, Espartaco, Glenn Fischer, Marshall Fox,
Justin Gilzene, Jude Harzer,George Hirose, Amanda Ioco, Sabeena Jindal, Lewis W. Jones Sr., Jupiter, L. Brandon Krall, Nancy Mendez, Francis Mesaros, Luis Perelman, Robert Pfitzenmeir, Amy Puccio, Jill Ricci, Patrick Schiavino, Adam Shultz, Melissa Starke, Jerome Strauss, Vicky Steckel, Tommy the Animator,Andrea Von-Bujdoss & Roddy Wildeman
For a second year, The CMAD Festival will bring notable and emerging artists, family fun, music, food, drink, and more. Festival attendees will have the opportunity to shop the work of over 60 artists from Yoho Open Studios who work with an array of mediums from jewelry, fiber, glass, and ceramics, to filmmaking, photography, watercolor, mixed media and tattooing. This will mark the 16th year for the Yoho Open Studio.
Samuel Untermyer Gardens, 945 N Broadway
Untermyer Performing Arts Council celebrates Yonkers Arts Weekend at the garden. Enjoy the sounds of music while strolling through our incredible Untermyer Park!
May 18th
1:30-3:00 pm: Jazz in the Park with The Lee Marvin Trio
1:30-2:30 pm: Art in the Park
May 19th
1:30-3:00 pm: Jazz in the Park with The Eric Lesser Blues Band
US+U Gallery, 66 Main Street
US+U GALLERY
"Selections"

Alternative to a group exhibition, artists work will be displayed in individual sections of space that lend itself to showing a body of work from each, emphasizing the creative process of select US+U member artists.
Featured Artists: David Alge, Jose Antonio Arvelo, Demetrio Belenky, Henry Burgos,Ted Conley,Stephanie DeManuelle,Julia Eisen -Lester, Karen Gentile, Miriam Hendel,Amanda ioco,Satish Joshi, Alexandra Momin,Richard Pitts,Britta Siddell, Melissa Starke,Liz Van Buren,Alexis Wheeler, Aislinn Weidele, Richard White and Marcin Wlodarczyk
Curators Pick Featured Artist: Demetrio Belenky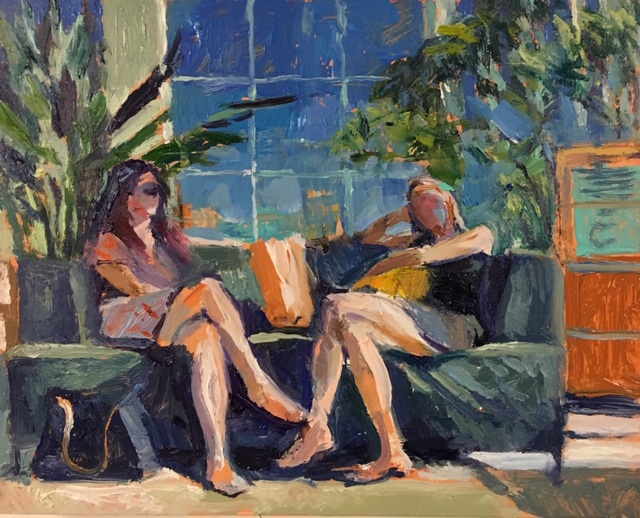 Pop-Up Gallery, 45 Main Street, Ground Level
Exhibition Title: "Collective Intersection"
Curated by Melissa Starke & Amanda ioco
Collective Intersection is a group show that brings together members of multiple individual artist collectives in one venue. This format presents a cross pollination of creative ideas and encourages artist to interrelate, becoming an incubator for co-habitation of the space.
Participants: Anna Socolof Art Advisory, Collective Art Space, Hewn Arts, Ossining Artists, Yellow Fine Arts
Curators Pick Featured Artist: Joel Werring
Riverfront Art Gallery, One Larkin Center, 4th Floor
The Riverfront Yonkers Public Library in downtown Yonkers has long been the cultural center for the arts in Yonkers. The gallery exhibits contemporary, nationally and internationally acclaimed artwork. The mission of the gallery is to present a diverse and balanced schedule of exhibits of high caliber, progressive artwork and related programs not frequently seen in Yonkers and surrounding communities. The exhibit schedule is managed by a committee that is appointed by the library director. Haifa Bint-Kadi is the curator for the gallery and head of this committee.
The Hudson River Museum is the largest cultural institution in Westchester County with galleries, planetarium, amphitheater, and educational spaces.
YOHO ARTISTS is a community of artists, craftspeople, and creative professionals located in Yonkers' historic Alexander Smith Carpet Mills. Their diverse work runs the gamut from traditional art studio practices to other maker activities, including painting, drawing, sculpture, photography, furniture and piano restoration, collage, beauty, set design, quilting, assemblage, music, woodworking, fashion, guitar making, printing, glasswork, textiles, filmmaking, jewelry, graphic design, digital multimedia, shoe design, tattooing, and creative manufacturing.
Pop-Up Gallery, 86 Main Street, Ground Level
The 11th edition of the Yonkers Artist Showcase is a group exhibition featuring the work of several dozens of artists working, living, or connected to Yonkers. The Showcase is produced and hosted by Yonkers Arts and is curated by the Yonkers Arts board of directors under the curatorial leadership of founding board member Luis Perelman. This year's edition is anticipating the highest participation rate of artists and new artists to the series than any previous edition of the Showcase. The range of styles and mediums and quality are sure to delight any visitor, and pride of Yonkers is guaranteed to be the lasting impression.
Philipse Manor Hall State Historic Site, 29 Warburton Ave

Today, Philipse Manor Hall sits next to the recently daylighted Saw Mill River in Van der Donck Park, and serves as a museum of history, art and architecture. It is also a host to community organizations, meetings, educational programs, a community art gallery and many special, community oriented events. Historical highlights of the Hall include its 18th century, high style Georgian architecture, a rare 1750s papier-mâché Rococo ceiling, and one of the only presidential portrait collections in existence, including six Presidents from New York State.
Sarah Lawrence College Center for Urban River at Beczak
The Center for the Urban River offers many opportunities for interactive educational programs to help children and adults to understand the complexity of the Hudson River and to encourage them to become part of the solution to maintain this great river.